Decline in packaged LED ASPs slowing as super-high-power LEDs rise to 50% of lighting shipments by 2017
Semiconductor Today, January 30, 2014
Revenue for LEDs in lighting applications (including both replacement lamps and luminaires) are expected to rise at a compound annual growth rate (CAGR) of 30% to $13bn by 2017, according to a report 'The Market for High-Brightness LEDs in Lighting Applications' from Strategies Unlimited.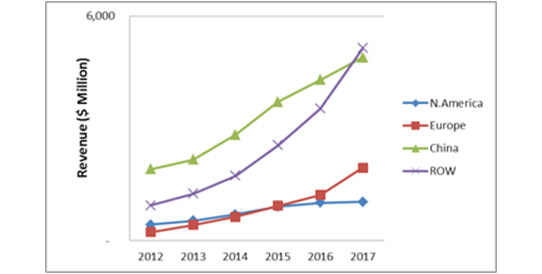 Picture: Market growth for LEDs in lighting by major region.
Over the last several years HB-LEDs have seen a precipitous fall in prices, which has helped to reduce the price of LED lamps and luminaires, but this decrease in prices has been slowing down in recent times, says the report. "Average selling prices (ASPs) of packaged LEDs are declining at a slower rate than previous years, as super-high-power LEDs increase in the market," says Philip Smallwood, research director of LEDs and Lighting at Strategies Unlimited. "While prices for all LEDs are decreasing, the increased penetration of these SHP LEDs (which have a higher price) is raising the overall ASP for all packaged LEDs." Super-high-power LEDs are predicted to be in 50% of LED lighting shipments in 2017.